北京师大二附中国际部第一届模拟联合国大会圆满结束
The successful completion of the First Session of the Second-High School Attached to Beijing Normal University Model United Nation Conference International Division, 2018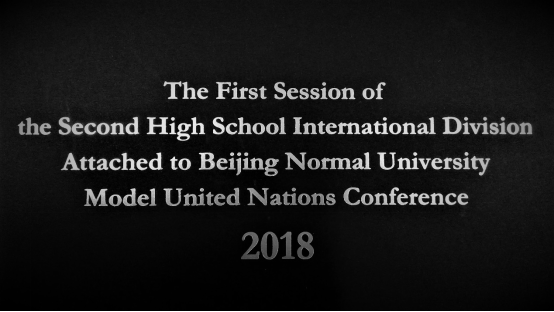 2018年5月20日,国际部模联社成功举办北师大二附中国际部第一届模拟联合国大会。
On May 20, 2018, our PGA Model United Nation Club leaders successfully held the first Model United Nations Conference of the Second-High School attached to Beijing Normal University International Division.
1、报道台 (Sign-in desk)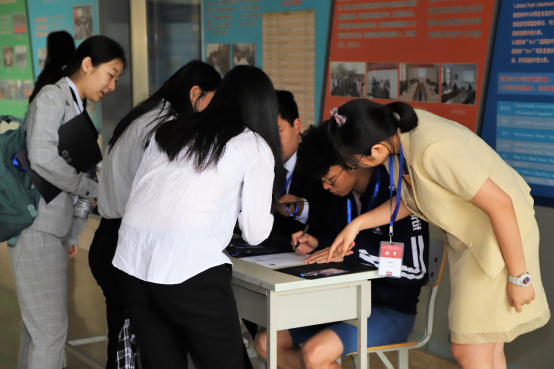 早上八点半,志愿者与社团成员在报道台帮助参会代表签到,领取相关物料,并引领他们到达开幕式现场。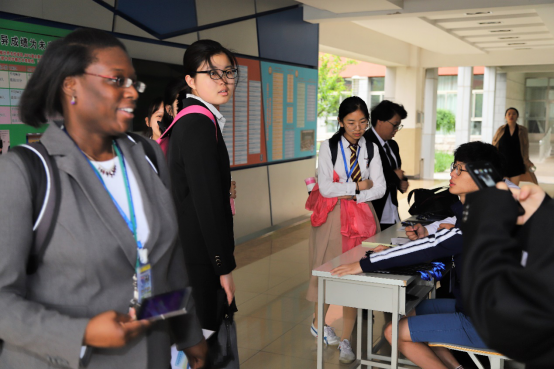 At 8:30 AM, the volunteers and members from PGA MUN club helped delegates to check-in, collect relevant materials, and led them to the opening ceremony.
2、开幕式(Opening Ceremony)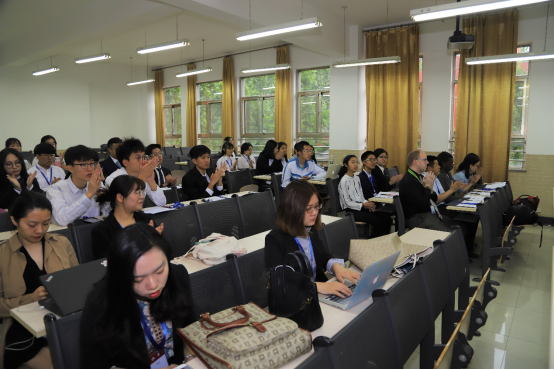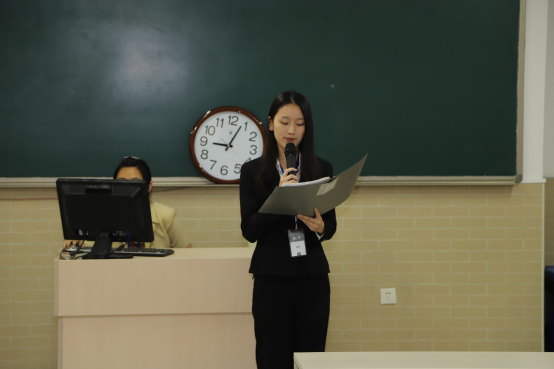 开幕式由PGA模联社陈珞加同学主持。我们还有幸邀请到了北师大二附中国际部校长马骊、纳赛尔校长Steve Dignin、PGA校模联社指导老师江李容、纳赛尔模联社指导老师Mrs. Barrett、PGA校内社团总管理老师汪盈老师前来参加活动。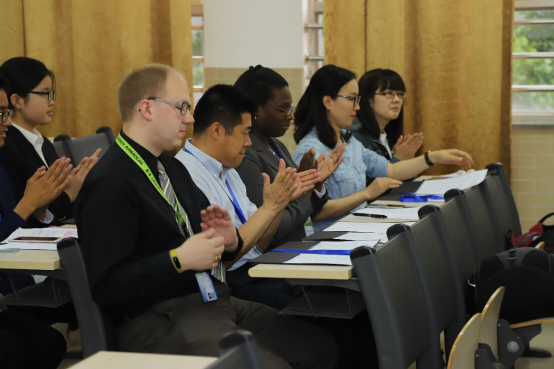 图中从左至右:Headmaster Steve Dignin、马骊校长、Mrs. Barrett老师、江李容老师、汪盈老师
The open ceremony was hosted by Ruby Chen from PGA·MUN Club.It's a great honor to have headmaster Steve Dignin from SPAS, headmaster Mario Ma from SHSBNU, teacher Mrs. Barrett from SPAS, teacher Mrs. Jiang from SHSBNU and Mrs. Wang from SHSBNU to attend our event.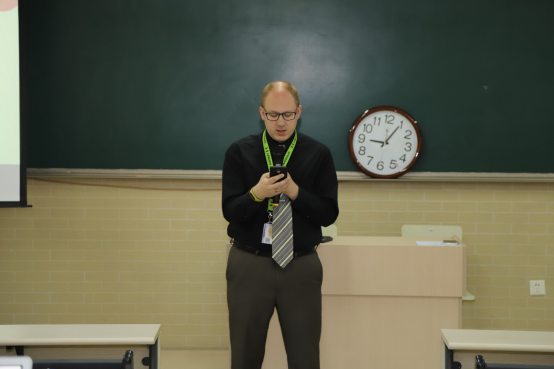 纳赛尔校长Steve Dignin进行开幕式发言
The speech by headmaster Steve Dignin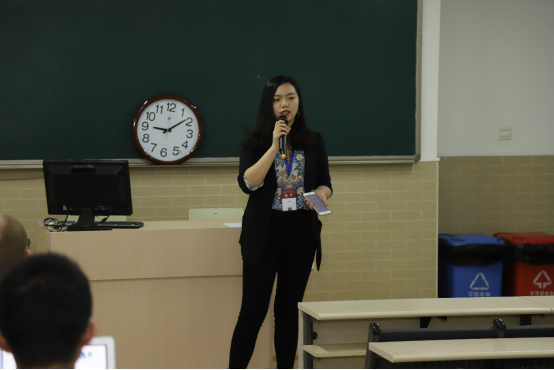 会议主席柯佳怡发言
The speech by chairs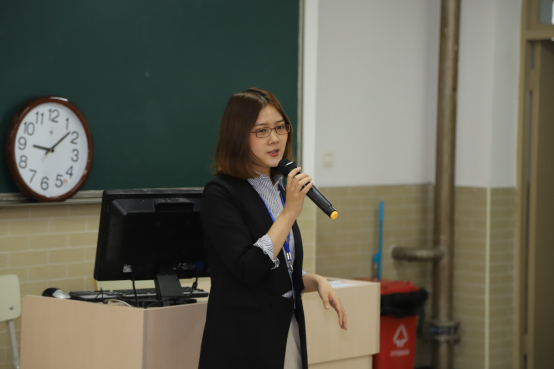 会议主席张豫洁发言
The speech by chairs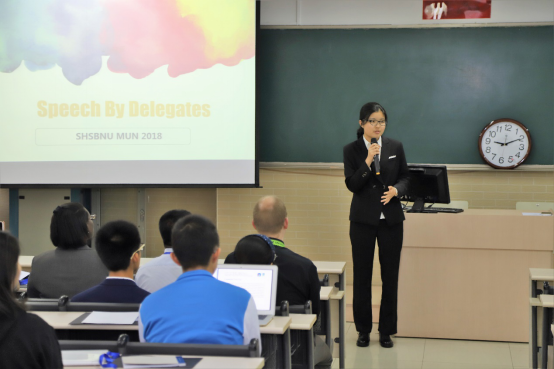 参会代表发言
The speech by delegates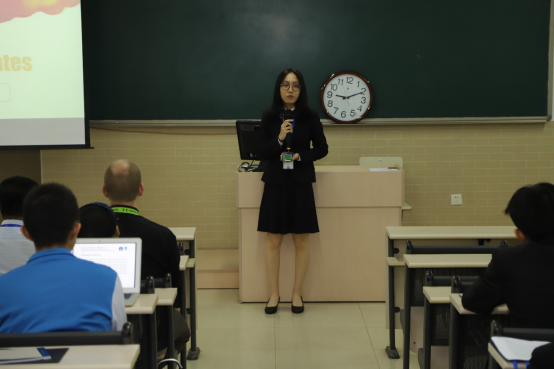 参会代表发言
The speech by delegates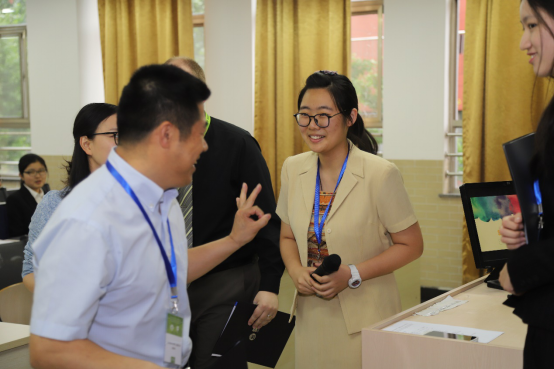 校长为我们点赞!
Praise from our headmaster!
3、会议 (Conference)
大会分为两个委员会,分别为人权委员会和联合国环境署,议题分别为互联网人权和争取全球享有洁净水资源。会议上,同学们积极发言,表现出色。
The conference was divided into two committees, namely the United Nations Human Rights Council (UNHRC) and the United Nations Environment Program (UNEP) respectively, and the topics were Human Rights on the Internet and Securing Global Access to Clean Water. During the meetings, students spoke positively and performed very well.
人权委员会(UNHRC)
And now lets take a look at the conference of UNHRC and the performance of delegates!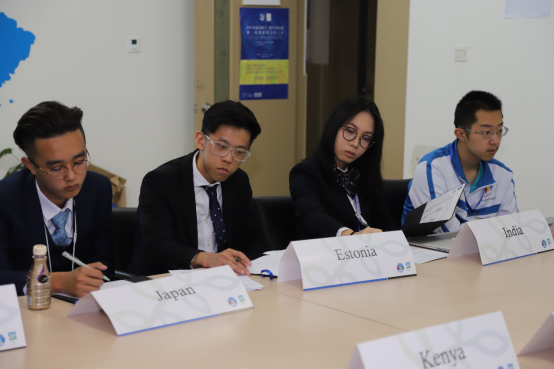 聆听+思考
To listen and consider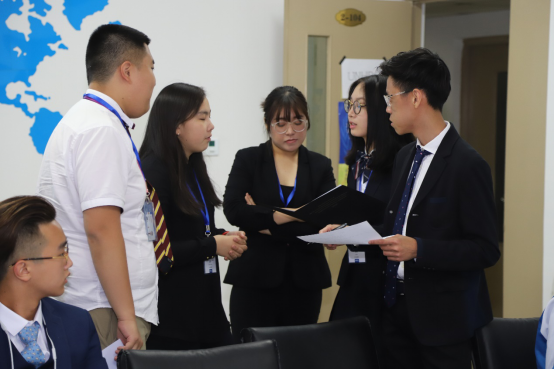 与不同国家磋商
Communicate with different countries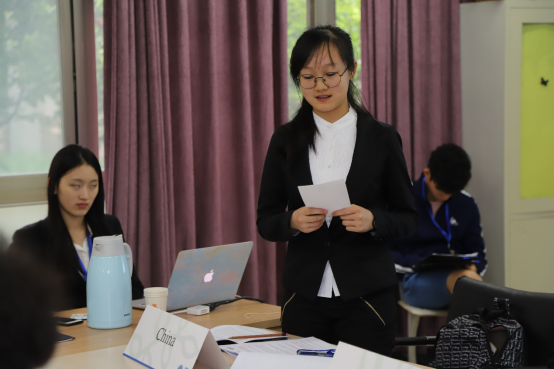 陈述立场
State the position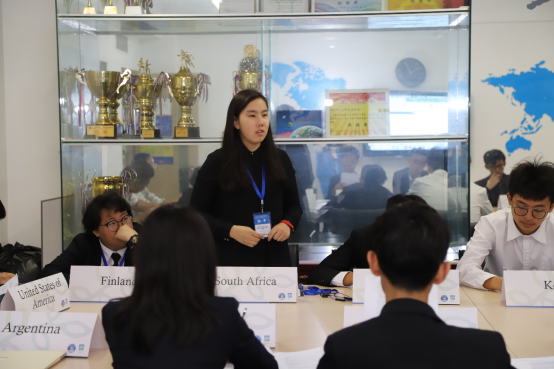 代表发言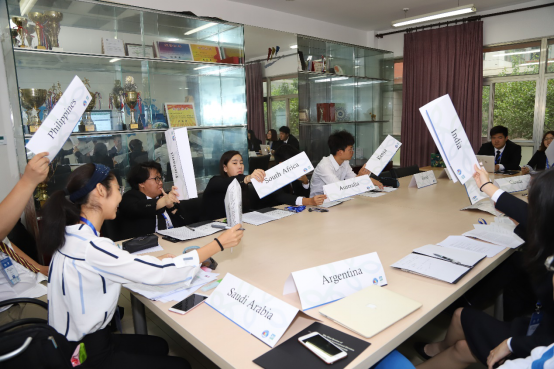 投票通过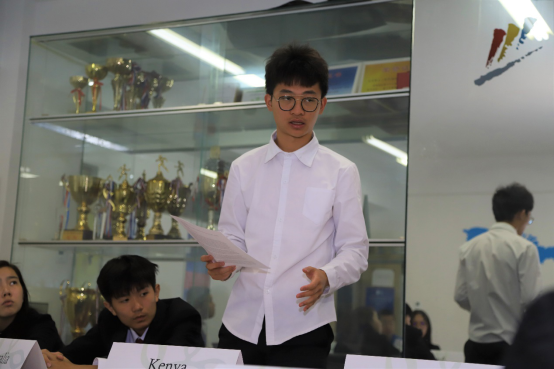 代表发言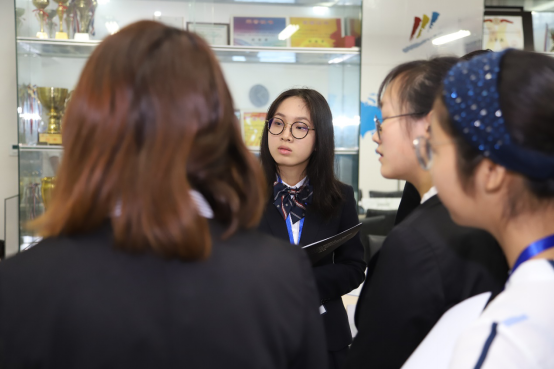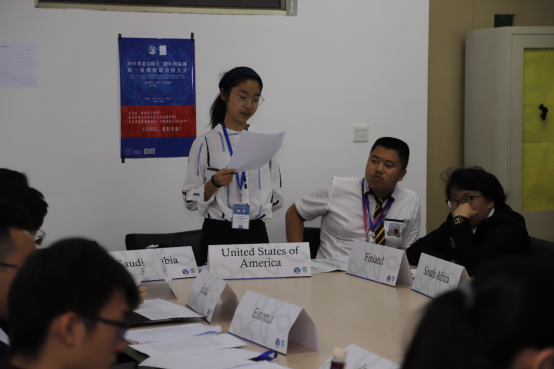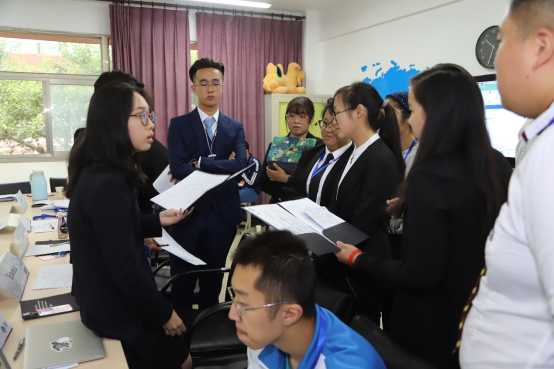 代表及会议掠影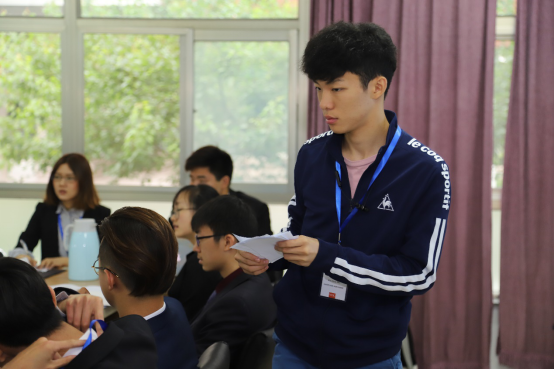 还有我们可敬可爱的志愿者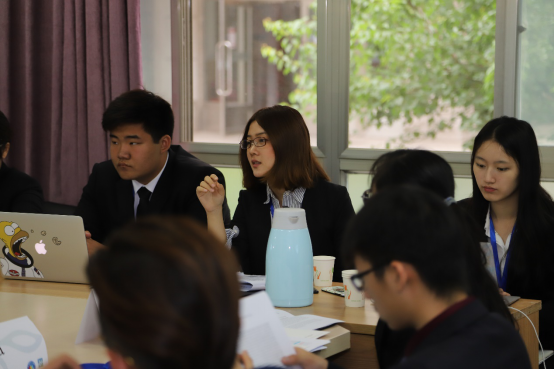 Insightful和Hardworking的主席和AD们
联合国环境规划署(UNEP)
And followed by our perfect pictures of delegates, ADs, and Chairs!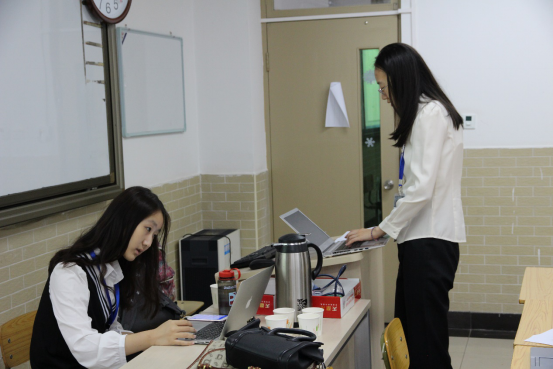 用功的AD们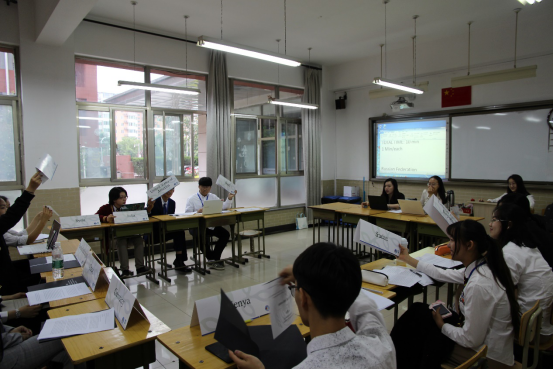 代表踊跃投票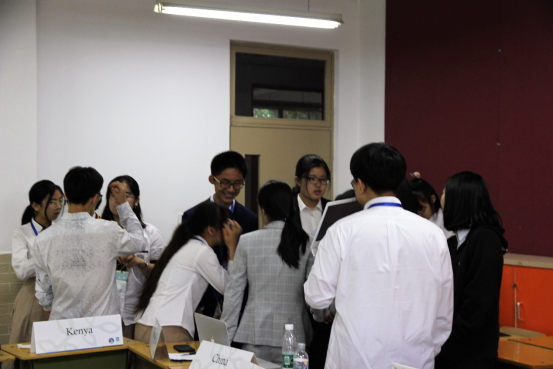 大国小国一起磋商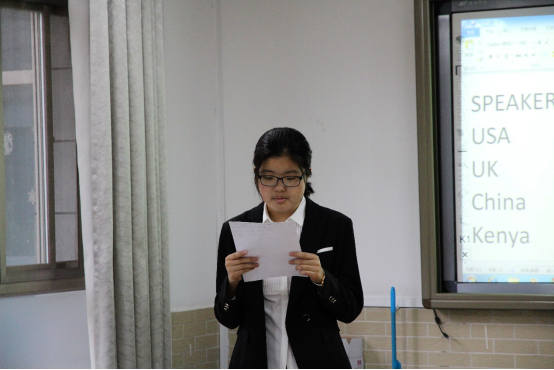 国家陈词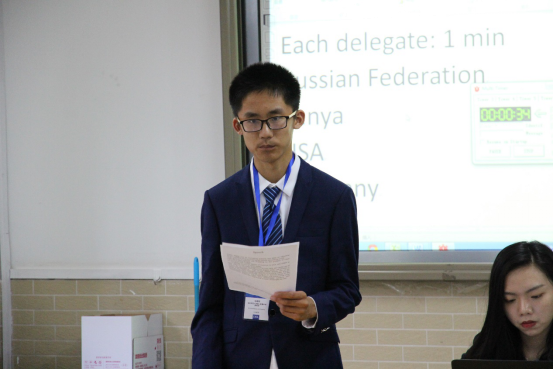 The gaze from USA
4、闭幕式 (Closing Ceremony)
闭幕式同样由陈珞加同学主持,并邀请到了学生管理中心孟茂主任、王博老师,以及社团总管理老师汪盈老师。我们通过视频的方式回顾了一整天的经历,还在最后为表现突出的同学颁发了奖状。
The closing ceremony was also hosted by Ruby Chen, and we invited the principle of Student management center Mr. Meng, teacher Mrs. Wang, and Club Principle Mrs. Wang.
In the closing ceremony, we reviewed the whole day's experience through a wonderful video and awarded outstanding students!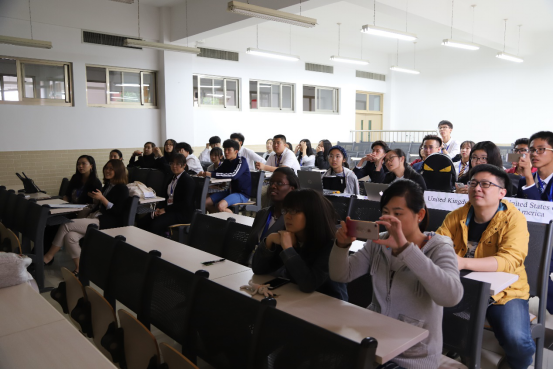 图中第一排从右至左 学生管理中心王博老师、社团总管理老师汪盈老师
第二排 学生管理中心孟茂主任
下面是获奖代表照片!
And here are the pictures of certificate winners!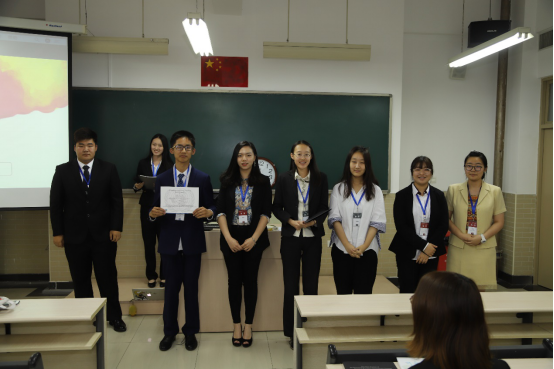 获奖代表(Best Delegate)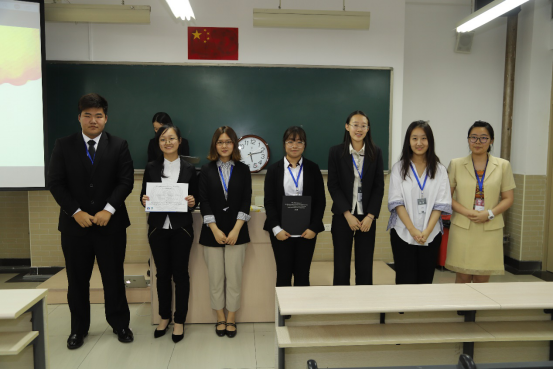 获奖代表(Best Delegate)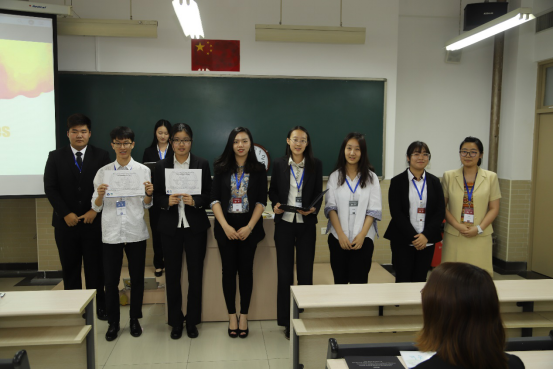 获奖代表(Outstanding Delegate)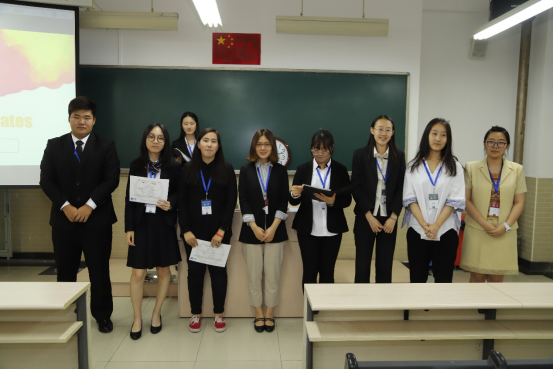 获奖代表(Outstanding Delegate)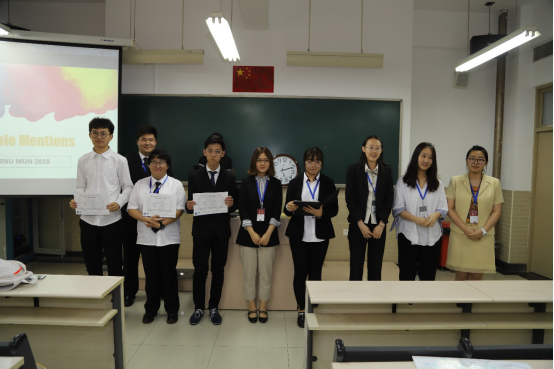 获奖代表(Honorable Mention)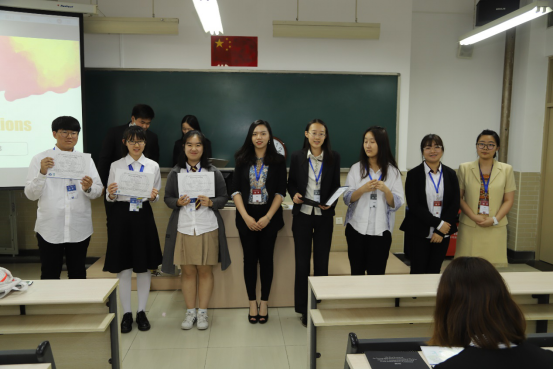 获奖代表(Honorable Mention)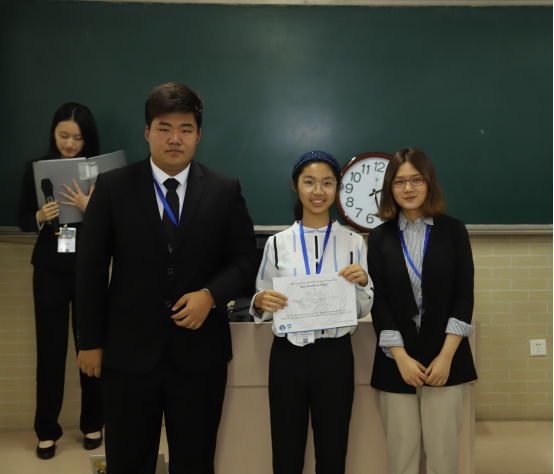 获奖代表(Best Position Paper)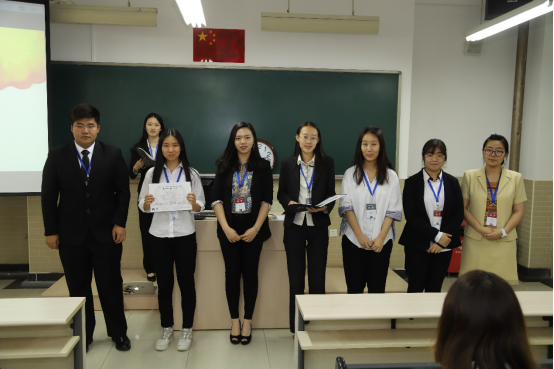 获奖代表(Best Position Paper)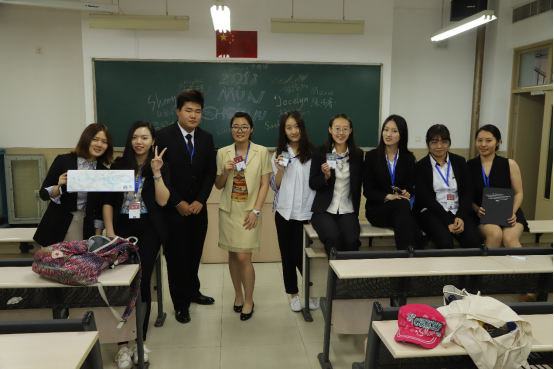 Us! The best team ever!
我们!最好的团队!
5、我们有话说!
代表有话说
马楷琛
In the wave of warm applause, the First Session of the Second-High School International Division Attached to Beijing Normal University Model United Nations Conference was ended. For the prize-winner of best delegate,I was not surprised but felt normally. Some delegates are not inferior them me. I shall not be remarkable with their help. I shall remember the scene that delegate of UK was modifying the format of the Draft Resolution. I shall remember the expression of the delegate of China when she asked me to strengthen the corporation in the aspect of water access. I shall not forget the view of the clock pointed to twelve at midnight when I was still reading Background Guide at the desk. I shall not forget the tension and nervous I felt during my first speech in the conference. The experience of MUN not only let me studied environmental knowledges,but also,which is more important,taught me a lesson that we should think win-win and try to achieve synergy. I would also like to express my appreciation to my MUN clubmates. How precious!I met my most charming clubmates at the most beautiful time!
张歆琬
Model United Nation is a comprehensive activity which has attracted me for a long time. However, this is the first time for me to participate in the conference. The MUN conference is a real test for our academic ability: research, debate, public speech, formal writing… It was really nice to get to know so many brilliant people who light up the stage of the MUN conference with innovative ideas and confident voices. Although it was a tough procedure, I felt the joy of presenting my own opinions and cooperating with others. Best wishes to the SHSBNUMUN!
张雨萌
This is my first time to attend MUN conference, and I experienced to communicate in English with other delegates, even with non-Chinese delegates. I combed the conference process through the meeting clearly, it also has exercised my logic thinking thought to come up with a solution in a short time. I got the award of outstanding delegate which encourages me.
陈柏林
After joining this MUN conference, both my English-speaking skills and my knowledge of international issues have greatly enhanced. Additionally, I make acquaintance with students from SPAS for the very first time, for which I believe attending MUN is a great opportunity that we should not miss.
于嘉轩
Having the experience of attending SHSBNU-MUN, I think it was a great honor to achieve a certificate as Outstanding Delegate. MUN gave me a chance to formally represent one country and learnt to negotiate with other delegates. I surely harvested a lot! I want to take part in more conferences and sincerely wish SHABNU-MUN to continually thrive and become more and more successful!
王洋昊昱
This is the first Model United Nations I took since I have joined MUN club. I was pretty exciting and nerves.
Participating in these 3 conferences have improved me a lot. I am able to practice listening, speaking and interpersonal skills. In addition, there are many distinguished delegates in our commission. I made friends with them and learnt a lot from them. I can see my shortage by watching their excellent performance. I still have many deficiency such as lack of courage to motion.
I'm very surprised that I received an award at the ending ceremony, it shows that being well- prepared is useful.
I would like to thank all the ADs and teachers who spent their time for our activity. I hope my skills could continuingly be strengthened in the future.
Ziqi Liu:
I am very glad to attend in this meeting. I didn't present in MUN before. During the preparation of the paper, I was so nervous. I thought that I will make a trash. Soon, the day comes out. At the beginning of the meeting, I felt a little bit excited and shy when I was delegating my country Central African Republic. I could not stop my voice shocking when other delegates were facing at me. But after several times I felt that it was comfortable for me to present. I started to raise my card and giving the advises of my country. I feel much more confident than before. For me, the experience of MUN was a great participation. I really appreciate the delegates who gave a lot of new opinions. All in all, I really thank our school and all attended teachers and students.
Geon Chang:
I was very nervous before I started this conference. I was very worried because I did not do enough research on the data and it was my first time to discuss English. But I did my best to find a good solution, to think of myself as a U.N. delegate. I had a headache in the middle of the discussion, but I endured more than six hours of discussion. I gained confidence through this debate and was proud of myself. I am grateful to Ms. Barrett and Jessica for leading this contest and making me good memories and experiences. If I have a chance, I want to join with MUN friends again.
Yiyao Zhang:
It is very honorable to participate the MUN yesterday, and this is my first time to join this kind of activity. Got this award was totally astonishing me because I can't believe that I can write a position paper. Also, we can finish the meeting smoothly is because of the contribution from the PGA students' teaching, SPAS students' helping and the assistance from the teacher. I learned a lot from this that how to having a completely MUN meeting and the rules for the MUN. I am pleasure to having such interesting activity and I will participate more in the future, this is not only enriched my social life, but also enriched my knowledge about the global issues.
Zijun Liu:
Here's Mason. Liu from SPAS who was the delegate of Estonia. This is my first MUN experience with full of ignorance and anxieties, but after a tight scheduled Sunday, I learned a lot. First of all, do not escape, several participants just escaped from the conference because their so called "SHY", but actually it's a disprove of yourself, always face your challenges because you are not going to die for it. Secondly, use all your advantages, Estonia is a small country with not much power, but everything is a two-blade sword, I used it and persuaded countries include India, China and SA, they finally accept my proposal because I used my "Tiny" accordingly. Remember, every flaw on yourself can be your weapon if you are smart enough. That's what I learned from MUN, thanks.
Maral Elbegsaikhan:
The SHSBNU Model United Nations organized by PGA was my first MUN in China and I went in not really knowing what to expect. Although I wouldn't say nerve-racking, it was definitively awkward at first as I didn't know a lot of the other delegates or the organizers but we broke the ice pretty quickly. It was definitely a very new and fun experience and it was great to see our SPAS students collaborating with the PGA students to basically come up with solutions for our somewhat broken world. I definitely had a lot of fun with a bunch of intellectual teenagers and I'm so glad I decided to take part in this event. I hope there are many more MUNs coming our way because I'm ready to go full in!
Yuhan Kang:
Thank you for giving me the reward. Actually, I thought I would not win any reward for the Sunday MUN meeting. And I been very nervous on that day's promoting. But I really did a lot of researching before that meeting( I'm totally new on this) But I still thank for the meeting and the cancel and all friends involve in this meeting. Loving you guys❤️
AD及SG有话说
AD王若瑄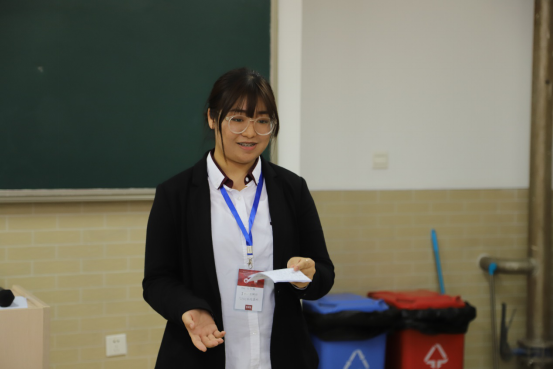 This is the first time that I play a team member role in MUN.I am so honored that I can guide such wonderful delegates. During the conference, I have learned a lot. Thank you for all the people for your efforts. And I just want to say: SHSBNUMUN, we are together.
AD陈珞加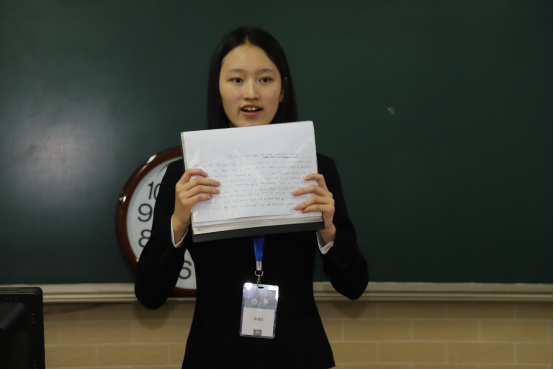 I am grateful to have opportunity to share my opinions in this year MUN as an assistant director. Like some delegates who attend the meeting for the first time, this is also a brand new experience for me as an AD. By seeing delegates actively participating in, I remember the first time I attend MUN. I have been very shy and I didn't even know how to write position paper and all those documents. There was no one remembered me at the end of the conference. I had been very frustrated. I wanted to give up, but I finally decided to hold on, and I made it. I contribute to discussions, stand confidently while everyone's eyes are on me, and I have many brilliant ideas to share. The most profound lesson I leant from MUN is that: Never give up, hold on, and you will be just as brilliant as you want to be.
AD李博闻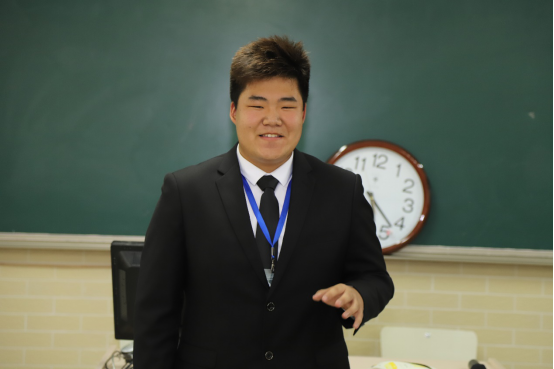 模联是一个舞台,平等的舞台,智慧的舞台。对于每个模联人来说,模联,更是一个不断认识自我的过程。在争论与协商中,发现自我,成长自我。从狭隘走向包容,从感性走向理智,在摸索中前行。作为这次模联的AD,非常高兴同学们能积极的参加,也感谢来自老师们的支持,期待下次下次模联的举办!!!
AD孙梦涵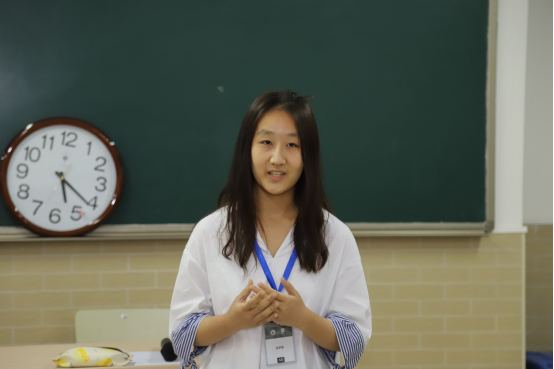 MUN provides us with a platform to shape the future. It unites people with different experiences to share the same spirit of global citizenship. By joining UNEP committee, each delegate shouldered the responsibility of lessening the impact that human actions may have on the future of the planet. Although reaching consensus was not an easy task, everyone embarked upon the pursuit in engaging debate. In the future, we hope more people can support MUN and speak up loudly addressing global issues. The future is in your hand ~
AD张瑞睿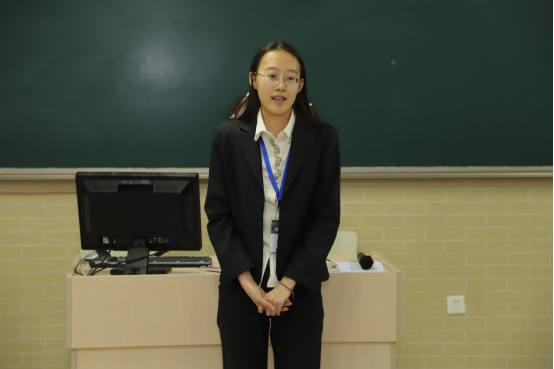 This is the first Model United Nations Conference held in the school. It is also my first position as assistant president. I learned a lot from the meeting, especially from the participants. Most of them took part in the meeting for the first time, but they could stand up to speak at the table bravely. In the course of the meeting, thanks to the school for giving us this opportunity to thank the instructors and the chairmen of the two committees, and to thank all the students for their active participation, and to all those who helped us and supported us.
SG曾楷莉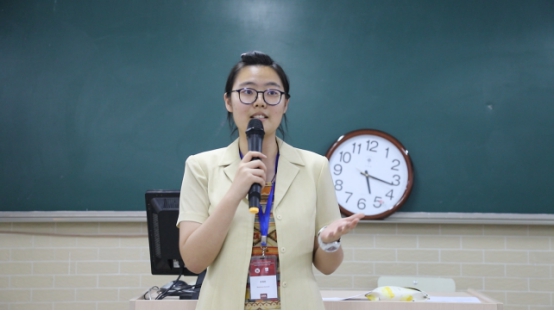 From the training session to the today's conference.
We all went through a lot!
We can see your nervous and shyness at the beginning, but we can also feel you guys putting yourselves together and bravely step in the front and state clearly and passionately for your countries.
We know you have worked very hard to prepare for today's conference! For you PPs, fierce discussion, brainstorm, motion for moderated caucus and draft resolution. We believed you've all strengthened your overall abilities!
To those who received prizes, you are great!
To those who haven't, this is just a starting point of being a MUNer, you might have improved more than anyone else!
As the host of this year's MUN conference, we are so proud of you! And may you continual to work hard and achieve more!!!
Thank you all for your participation!
6、小结 (Summary)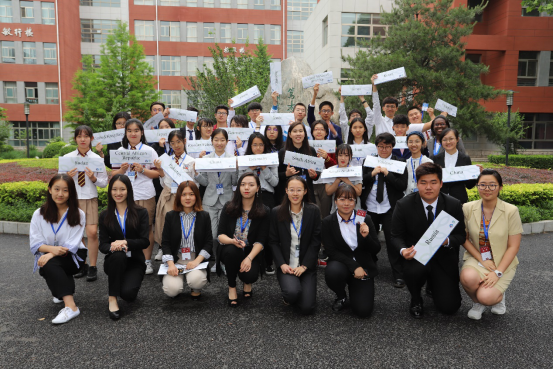 此次模拟联合国大会,我们学到了很多,不仅在会议流程,更在于我们在每一位同学身上感受到了对于模联的热情与对我们的尊重。
这届模联是我们的,但是更是你们的,为你们提供了这样一次会议,我们也感到格外开心!在会议中,你们互相切磋、思维的碰撞,激烈的像在争吵。有获得、有遗憾、更有对未来会议的憧憬。这所有的样子,都是青春的颜色。
同时!我们致敬以下同志!
我们感谢学校给予我们的信任与支持!
我们感谢蔚蓝国际的指导老师师展老师,主席柯佳怡老师、张豫洁老师。
我们感谢所有代表和志愿者全天的付出!
对于AD们和SG,你们也真的很棒!
以后的模联会议,我们将会以一个更加优秀的姿态迎接你们的到来。
下场会议,我们不见不散!
We have learned a lot from this year's Model United Nations Conference, not only in the process of meeting, but also to the enthusiasm and respect and tolerance from everyone!
This year's MUN is ours, but it's also yours. Providing a conference for you is also a pleasure and honor of us! During the conference, you made moderated and unmoderated caucus. You brainstorm different perspectives toward the topic and discuss fiercely. You may have gained a lot, you may have some regrets, and you might be excited for our next MUN session!
All of these is youth!
Meanwhile, we give a million thanks to these people below!
We thank the trust and strong support from our school!
We thank the instructor teacher Shi Zhan, Dais Ke Jiayi, and Dais Zhang Yujie from WELAND International!
We thank all delegates and volunteers for their hard work all day!
And as for our Ads and SG, you guys did a great job!
Next time in our MUN conference, we will welcome you in more excellent postures. See you this fall!
As a 模联人,我们的爱,永远不变